Although the coronavirus threat and massive public response have created significant disruptions to routine and established an unsettling new normal, for the most part, people are reacting responsibly and in good spirits.
As with any stressful situation, some ease the mood with humor.
And as Gov. Andy Beshear's afternoon chats become a fixture in our lives, he's been at the center of much of the good-natured joy.
"The coronavirus has officially taken me back to my childhood. Gas is cheap, there's no eating out, everyone is outside riding bikes and Andy is on at 5."
Based on the social media posts, it's obvious many Kentuckians are embracing Gov. Andy Beshear as the Coronavirus Messiah – or at least successor to action star Chuck Norris as the web's most invincible figure.
"When Andy enters a room, he doesn't turn on the lights, he shuts off the dark."
"Andy Beshear cured John Travolta of Saturday Night Fever."
"Andy Beshear's calendar goes straight from March 31st to April 2nd. No one fools Andy."
"The next time Andy hears about a coronavirus party, we're all grounded."
Despite those tough guy representations, it's the governor's calm demeanor and soothing words that are winning people over. He's being compared to Mister Rogers and Andy Griffith's Mayberry sheriff. The impact of his updates are described as this generation's version of Franklin Delano Roosevelt's Fireside Chats.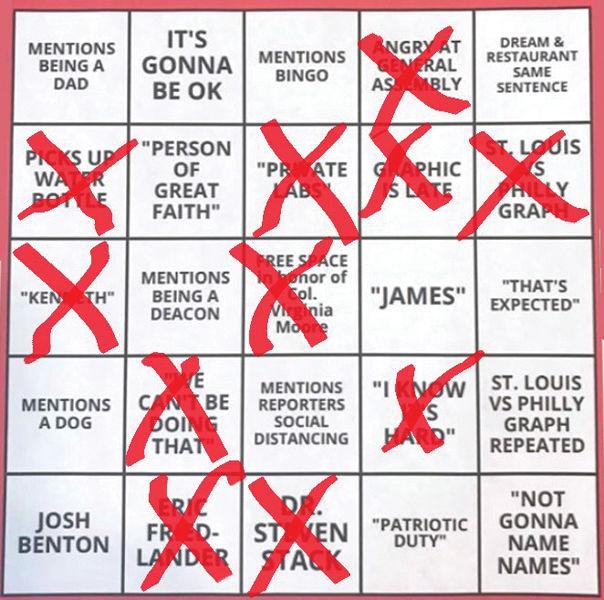 People around the state are playing Beshear Briefing Bingo, creating cards to record the governor's common utterances or other news conference recurrences.
He's being hailed online by some as a future presidential candidate and "offers" have been made by other states seeking to make an exchange of leaders.
"Georgia Here. We'll Give You Coca-Cola, Paula Dean, Tybee Island, Jason Aldean and Your Choice of UGA Football or Atlanta Braves. We're Willing to Trade Anything at this point."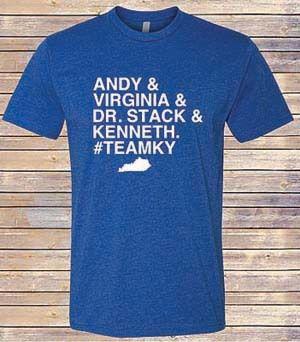 While many businesses are struggling because of restrictions designed to "flatten the curve" through social distancing, T-shirt makers are embracing the governor and the entire cast of his nightly updates.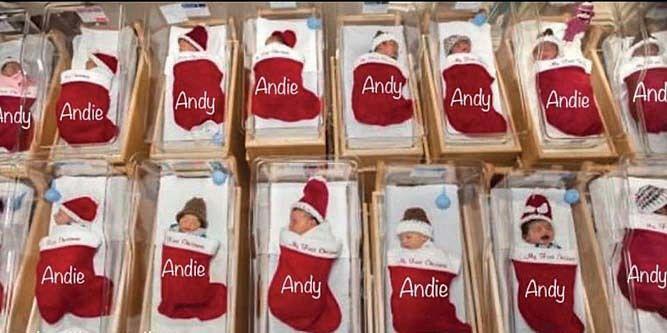 In anticipation of overextending Kentucky's hospital maternity wings about nine months from now thanks to a lot of free time spent at home, many are predicting Gov. Beshear's hero status will be remembered for a lifetime.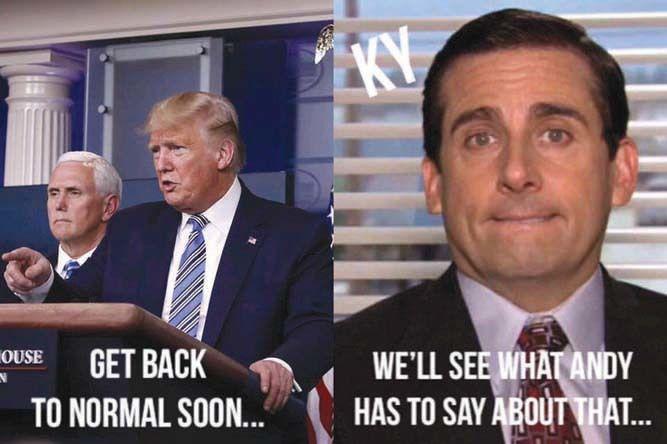 When President Donald Trump said Tuesday that American needs to get back to work soon and said he hoped for an Easter morning reawakening, the Meme creators went to work immediately. Here's one example, which features the character Michael Scott from "The Office" playing the role of Kentucky.
A Facebook page devoted called "Andy Beshear memes for social distancing teens" has an exponential growth curve, which has eclipsed the virus. Now with more than 125,000 members, the moderators have been overwhelmed with responses and feedback.
The message here: Kentucky is resilient. While the state has placed its trust and confidence in a man elected last fall by a mere 5,136-vote margin, residents also are willing to put on a smile and face this reality.
As Gov. Beshear is quick to say, "We're all in this together." #TeamKentucky
Mark that on your bingo cards, Kentucky.
This editorial reflects a consensus of The News-Enterprise editorial board.